VIS/NIR 5MP Multispectral Wheel Camera
SpectroCam™ multispectral wheel cameras offer a sophisticated, flexible platform for the development and deployment of various imaging applications. Available in UV, VIS, and SWIR versions. Designed to reduce development times and simplify the design cycle, SpectroCam™ features a high speed, continuously rotating filter wheel containing 6-8 interchangeable optical filters. Combined with the scientific-grade CMOS array, this filter design creates a fully portable and configurable, high-speed multispectral imaging system. With minimal pixel shift and high frame rates, this dynamic device is a powerful product development tool.
SpectroCam™ systems are available in a turnkey format complete with lens, eight interchangeable filters, and acquisition software that can be used for innovative 2D spectroscopy research in a variety of fields including water quality measurement, product screening, machine vision, medical imaging, surveillance, and authentication. The system can also be customized for integration into specific OEM products. The platform is readily modified to meet your mechanical and environmental needs.
SpectroCam™ is available for R&D teams who need a quick, turnkey solution. The device utilizes a wideband CMOS capable of UV-enhanced measurements and can be supplied with a standard set of filters or outfitted with up to eight different interchangeable custom filters. The proprietary design allows for quick delivery while providing a system that suits your specific application needs today and for years to come. The SpectroCam™ offers a cost-effective and versatile solution for your current and future multispectral imaging projects.
The SpectroCam™ Vis High Resolution utilizes the JAI 5MP GO Series CMOS camera.  This high-resolution multispectral camera allows users with the proper filters to see objects reflected spectra from 400nm to 1000nm.  Applications across multiple segments include medical imaging, food and agriculture sorting, process line inspection, and colorimetric imaging.  The higher resolution allows for more detailed imaging.  Filter sets for specific applications exist please inquire with our sales team if interested. 
Stock Filters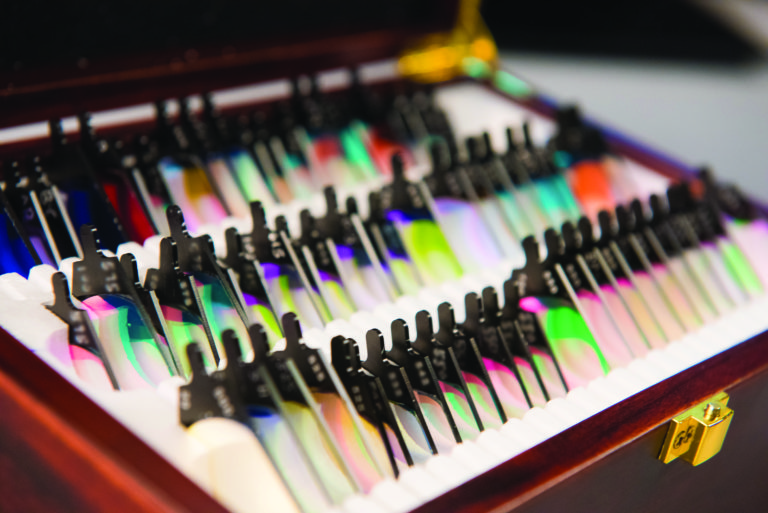 Click Here to Check Filters In Stock
Software