Larne, Northern Ireland.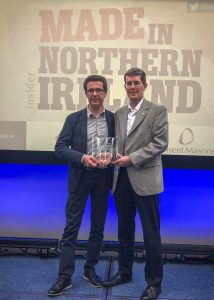 Raptor Photonics has recently won a very prestigious accolade at the recent Made in Northern Ireland Awards, held on Friday 11 May in the historic Titanic Hotel. Raptor picked up top prize in the Manufacturing Innovation category for the company's work in deep-cooled HD InGaAs cameras. The company will now go on to represent Northen Ireland at the UK finals in Liverpool in June 2018.
Mark Donaghy, VP Sales & Marketing for Raptor, says "These awards are always nice to accept on behalf of all the team at Raptor. It recognizes the hard work, the innovative technology and the high level of customer service and support that Raptor provides its customers. We are very proud of our achievements to date and we see the opportunity to continue to grow in the markets that we operate in".